Mini-donuts with ginger and lemon glaze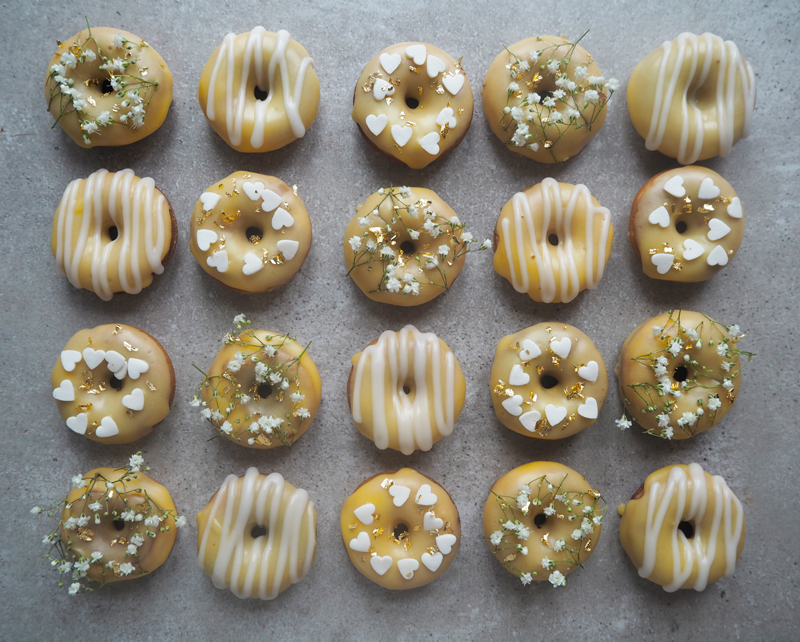 These cute mini-donuts with ginger are good as a sweet little dessert for a fun evening with friends. The taste of ginger from Råstoff Ginger Shot and the light-sour lemon melt together on the tongue in a delicious taste experience. Uhm… if you love berliners then you will certainly also be crazy about these mini-donuts, which are also fine as a sweet little afternoon cake here in the summer months.
Do you like sour cakes? Take a look at our sour drinks here
Mini Ginger Donuts (40 pcs):
Mini-donuts
2 eggs
1 tbsp Dr. Oekter vanilla paste
110 g cane sugar
100 g of melted butter
1 dl of whole milk
0.75 dl Råstoff Ginger
180 g wheat flour
1 ½ tsp. baking powder
1 tbsp. ground ginger
Start by turning on your donut machine.
Melt the butter in a pan. Beat your eggs, cane sugar and vanilla paste into an airy mixture. Pour the melted butter into the mixture and stir. Add milk and Råstoff Ginger and stir well together. Then sieve the flour, baking powder and ginger in it and fold it in.
Put the dough in a piping bag and cut a small hole in the tip of the piping bag. Spray the dough into your donut machine.
TIP: The dough must be completely up to the edge. If it does not come right up to the edge, it does not raise enough to make it a "whole" donut. Behind them for 3-5 minutes, keep an eye on them.
When finished, cool them off on a tray. Meanwhile, you can make the glaze.
Lemon glaze
250 g of icing sugar
3 tbsp. water (maybe a bit more)
4 tbsp. lemon juice
Yellow color
Put it all in a bowl and mix it really well together. The glaze should not be too thin, as it will then simply slide off. The white glaze is made in the same way – though without the yellow colour.
Now you can decorate your donuts just as you like. I made them here completely yellow with a white glaze stroke over.
Some with slightly different crumbs and some with flowers on.
Remember, however, to choose flowers that are edible if they are to put on your donuts.
Get started!